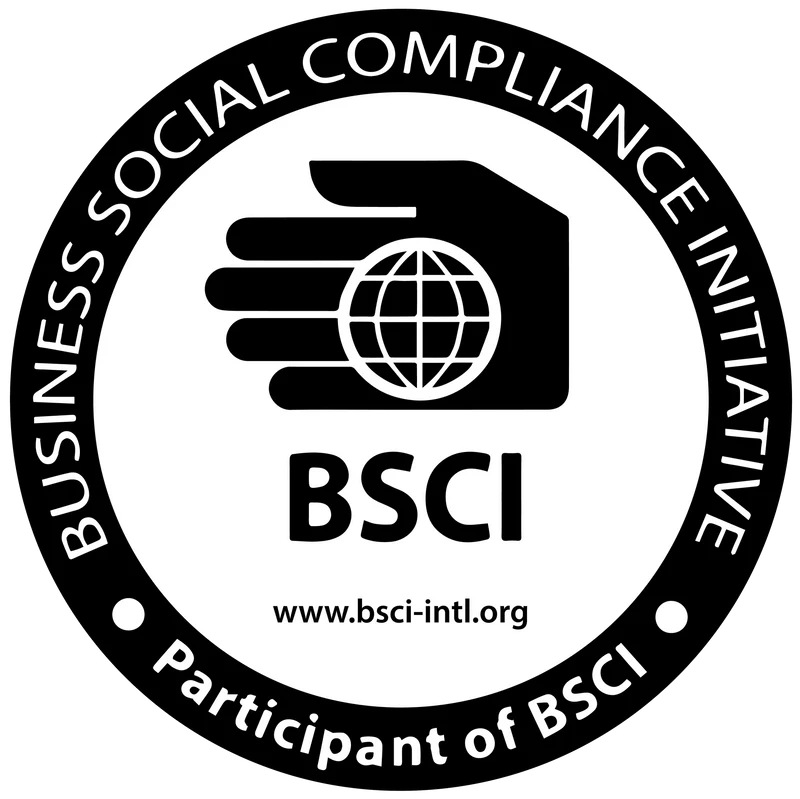 Step One Underwear is and has always been, ethically made.
Completely new to the clothing trade, our founder Greg knew from the outset that producing ethically was not only important, but it was a necessity. Greg personally went to the factories to source the perfect ethical factory.

We take being ethical seriously.
FIND OUT
HOW IT STARTED
PLAY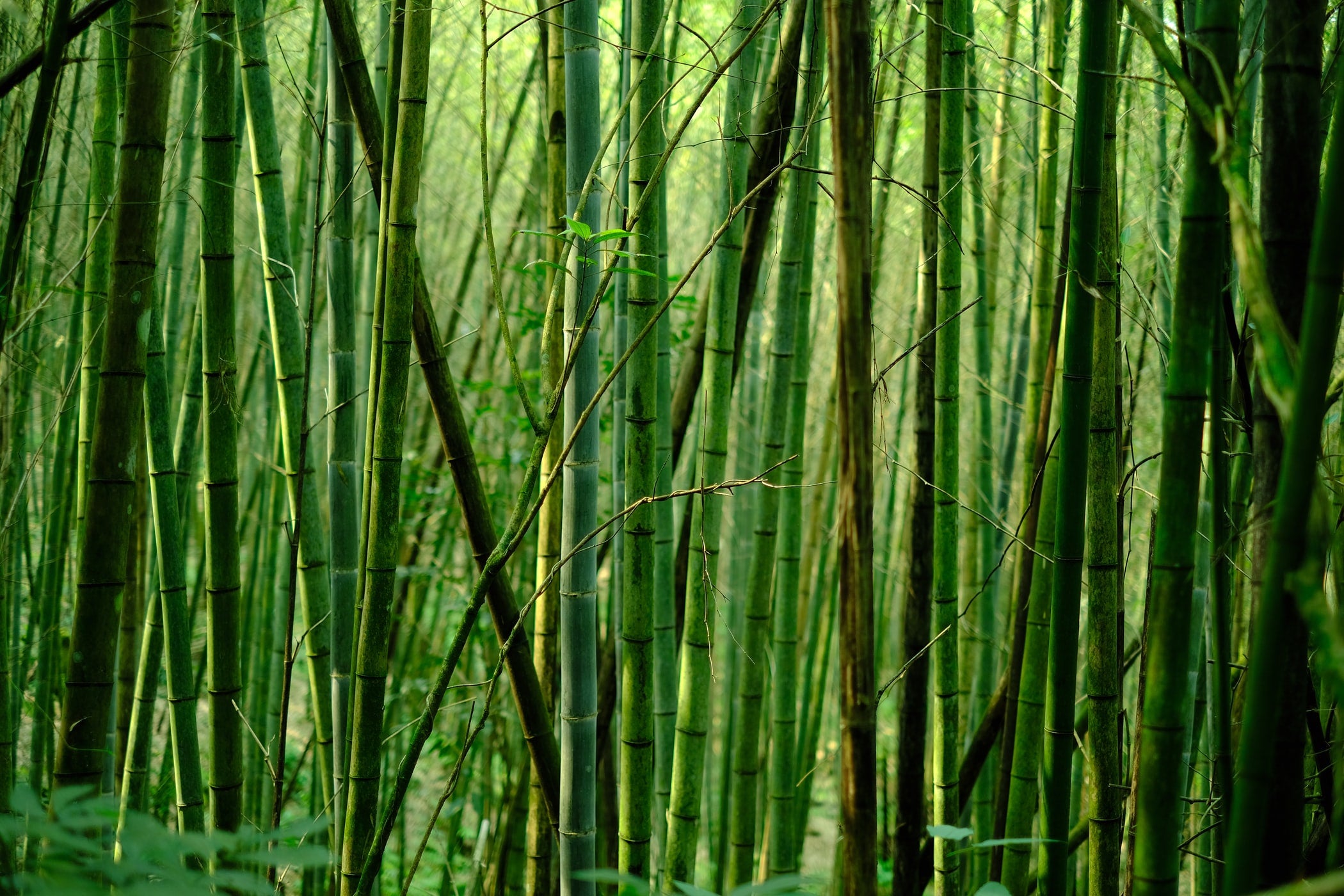 Our commitment to you
Step One cares for the environment. All our production processes are designed to minimise our impact on the environment whilst delivering to you super soft and comfortable underwear made from Viscose from Bamboo. That's why we are 100% transparent with our process and where our materials (such as Bamboo) are sourced.
We aim to have the smallest possible footprint on our environment and have a positive impact on the workers throughout our whole manufacturing process. Please feel free to reach out if you want to learn more about our company, our underwear, processes, facilities or ethos.
100% Organically grown & certified bamboo viscose
All Step One underwear uses Tanboocell branded Bamboo which is organically grown in China without the use of any pesticides and is certified. The production of Step One Bamboo does not contribute to natural habitat loss or destruction. 
Biological mould is added to the wastewater treatment process, and the treated water can be directly used for agricultural irrigation.
Most importantly, the Step One process does NOT use carbon-disulfide in the extraction process. The Alkali used for processing Bamboo chips is recycled. Once the yarn has been extracted we then spin the Bamboo Viscose yarn onto spindles which are then sent to our Ethically Accredited Factories for manufacturing.
Why choose bamboo for our underwear
- Bamboo grows faster and uses less water than cotton, making it a more sustainable option for the production of our underwear.
- Viscose made from Bamboo is significantly softer and has smoother yarns than cotton, making your underwear way more comfortable.
- Viscose made from Bamboo wicks away sweat to help you keep cool downstairs.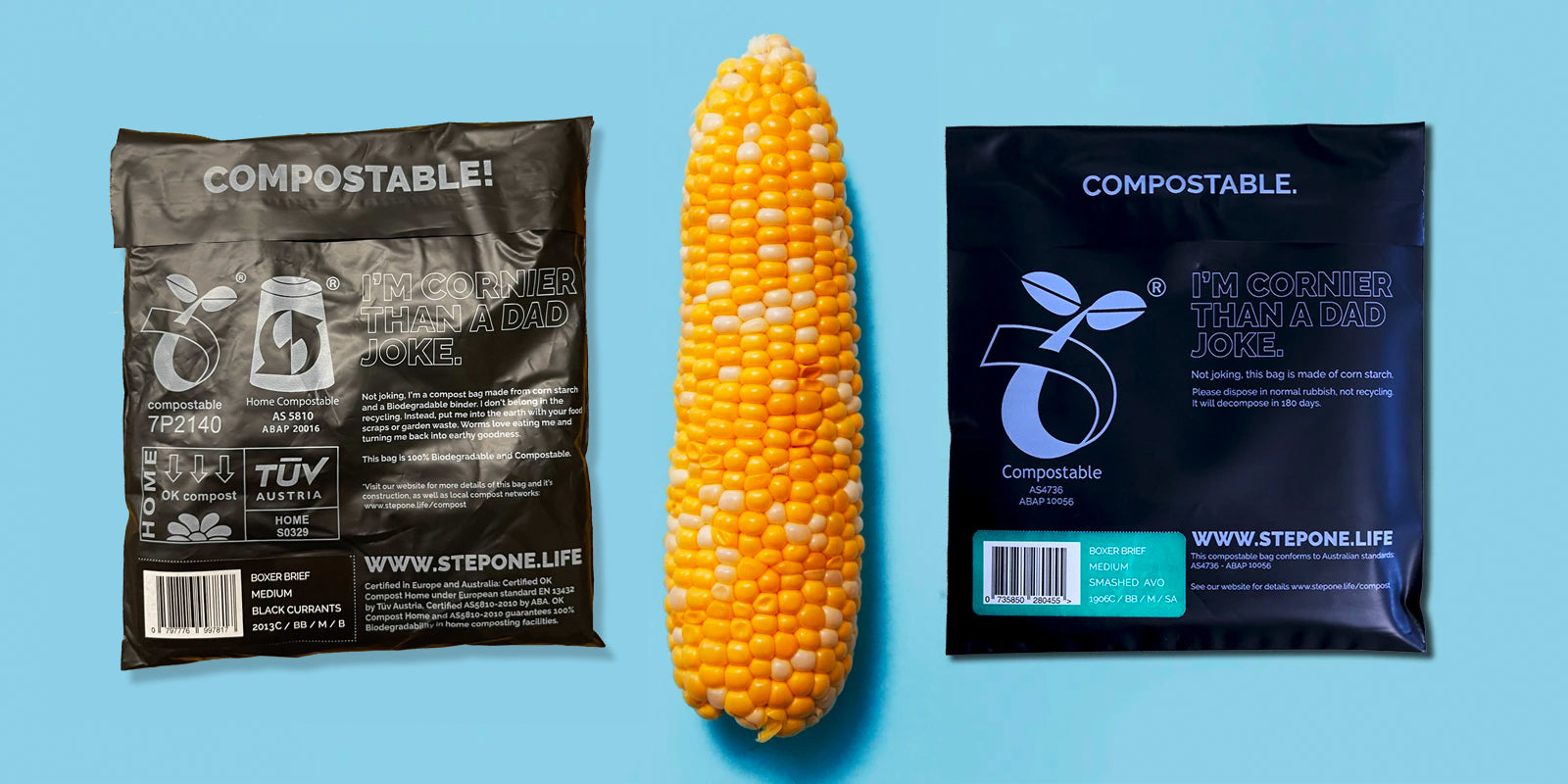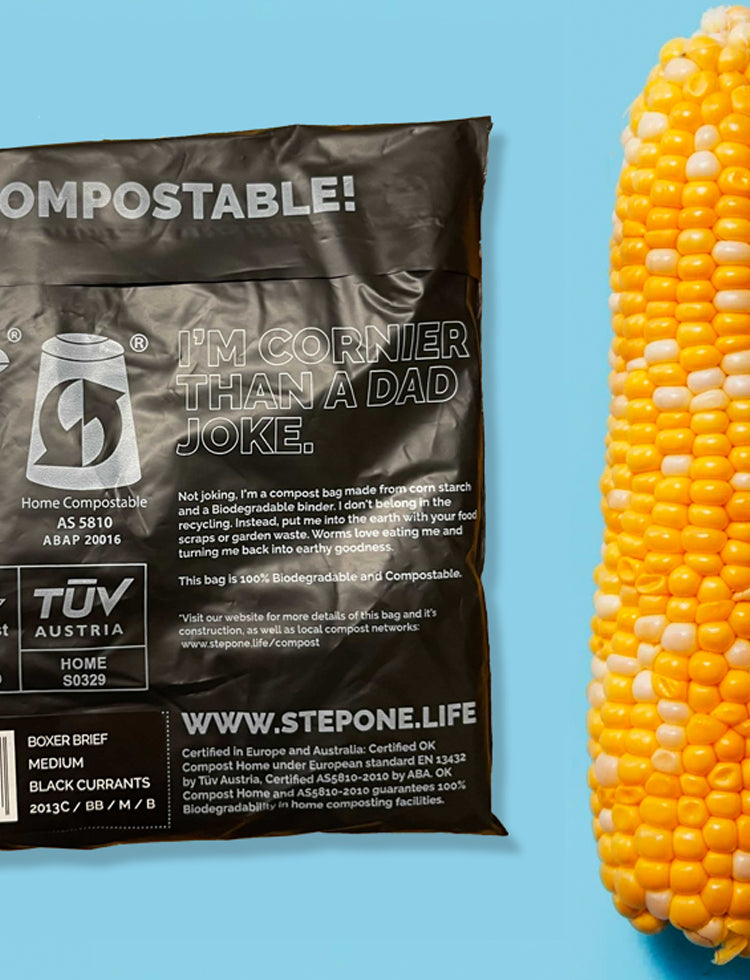 100%
Compostable
Step One packaging is made from 100% compostable materials. The Step One bag is composed of PLA (Polylactic Acid), corn starch and PBAT (Polybutyrate Adipate Terephthalate).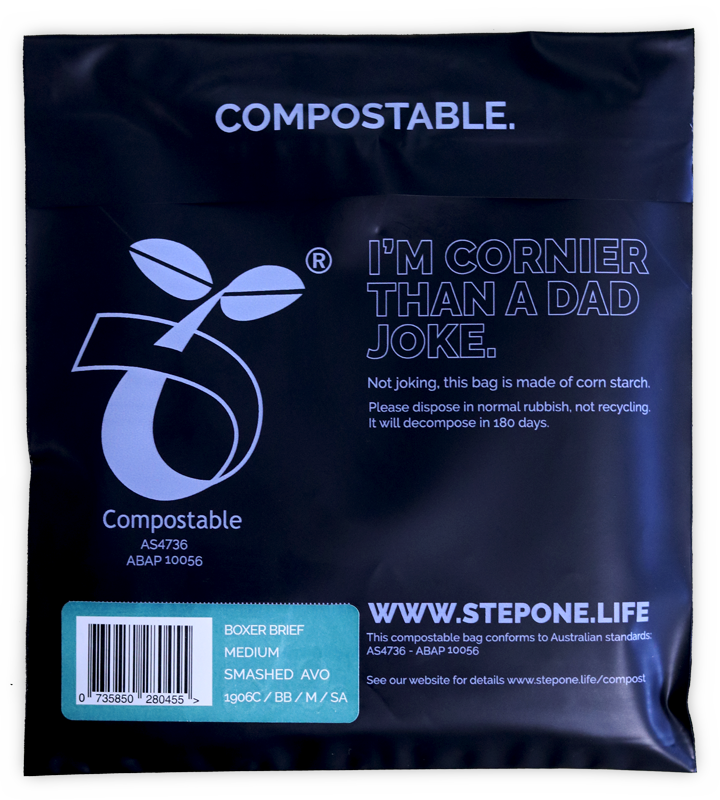 MADE FROM CORN STARCH
PLA is a bio-based plastic derived from renewable resources, in this and most other cases corn starch. Therefore PLA is often referred to as corn starch plastic.
There are several advantages to PLA:
PLA is made from corn starch, which is a renewable resource. PLA doesn't contain toxins. Producing PLA makes less greenhouse gas emissions, compared to standard plastics. The Step One bag is certified compostable according to AS4736. Less energy is needed in order to produce PLA, compared to producing standard plastics.
While our Step One bag is certified biodegradable and compostable according to AS4736, it is not made from 100% from renewable materials.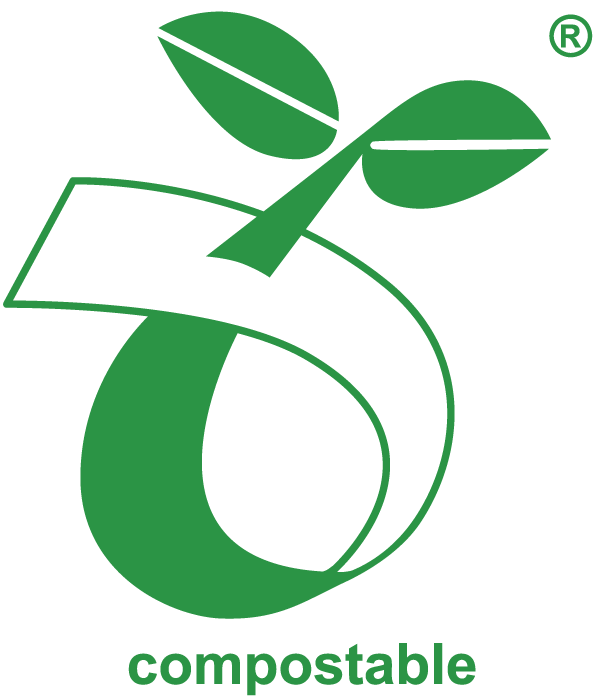 100% COMPOSTABLE
PBAT is petroleum-based and can therefore not be classified as made from renewable sources.
That said, PBAT is actually enhancing the composting process and leaves no toxins when composted.
PBAT is know for it's flexibility and toughness. This makes it perfect to combine with other biodegradable that have high strength, but are very brittle (like corn starch plastic). This combination is a great way to replace standard plastics with an environmentally safe and biodegradable alternative, that will harmlessly degrade in a short time.
The reason for using PBAT combined with PLA, is that it preserves and enhances the biodegradability of the PLA and adds flexibility and strength to standard plastics.